ArtNet is a dataprotocoll for light fixtures, developed by https://artisticlicence.com/.
DMX-Workshop is a free software application for lighting network management, analysis, configuration and diagnostics. It is completely free – you can download here.
This app is useful to see if the network configuration was successful and if the devices in the network can be seen.
This article describes how to setup an artnet network on a Windows 10 computer with a second Networkcard.
Copy paste into the searchbar: Network Connections and identify the correct Network card.

Right click "Properties"
Select "Internet Protocol Version 4…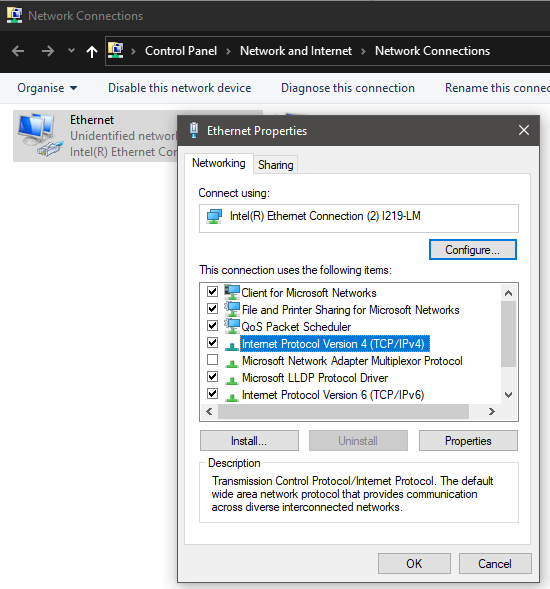 Open Properties and enter following data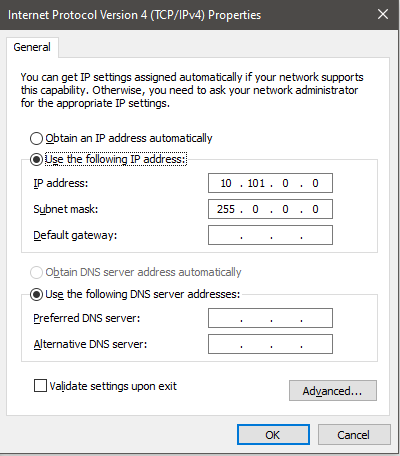 Press all the OK-s
check in ComandPrompt with ipconfig if the new IP is set correctly.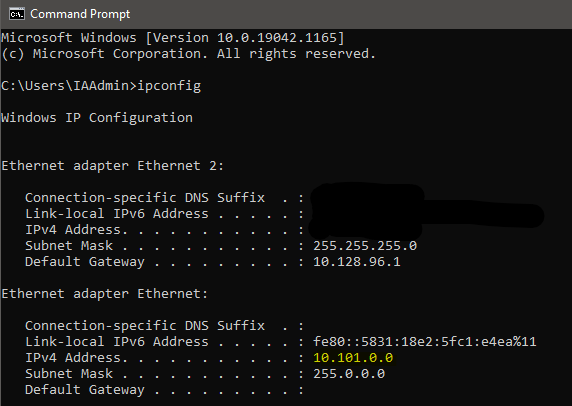 Make sure you have installed the latest imp.artnet package from here. (download latest version). This package is already part of the IASpace core libraries.
for example: set the @unicast_ip to 10.101.0.100 to address the dynamic mirror.

----------begin_max5_patcher----------
1109.3oc0X0ziaaCD8rWf8+.gP.xEGCQJaY4dponW5glKoGJPQfAkDsMSjHE
Do1ccB5+8NjTxqb7Wxd0Zu8hD3PJNCebdyiT+396F3EKeho7P+B5ePCF7Cvx
.qMikAMFF3kSeJIiprCzKQlmyDZug0cpYOoscn4YZzJ9xUa5pfpSVwEKmWxR
zNufilMxeHBGZdNYh4IwejO5KMeinJmKxXZqyvsrJqzMl8aLySsdVF+0OLyy
Z6eu+Nya30vW9JpfJN4BhL40Y8L8xWOvjGyJ6vtv3.aT6aiZR6nFhYddU9VA
2BoPKn4LqO9XImlswEf6aFNYxjiuzKnkvjnYkyYBZbFaKerMtP1CtD360NfT
7uamALD9M1cyfdcAysZ87Fh7hohkdnubwfZNSonKY6ljjrhJDrLT.5c3Nf4S
sX9zo6h4GAe2BII6Grv6CrvW.X8B.oCxj9qULDDP.XfR.RkhIRQTwZjKUEIW
fpgQERArNA.cn7pLMuHigpD7GXkJlZzlINiKXIxJgdK.YezSG+j3R0IFDeHJ
X7kf6mA4EGcPb+hwVpVWVw2LullV6p0hj4afnikA5JOE3G3pX4e4ofafhLYx
2NB1rubxnqaJ4gfMHPm2jycZPiL41BZDx0E0NsDhiW8+QEDB9MpBB9DJHNH+
pJffCeiHf7a.3ijBTAM4aLMRWREpbtRwkhQcnl2rZ5a3tGP6Un7Owu+K+ePj
4yP8+mkHQKjkIvKZVVKiZIJlYTc0nGWwDLvLJkpoHtvJCq.PCDZkBlUGdIH0
h9CMhqLPd7ZTJaAETiOf9aPGzem0V+cbzqs96rqm9abFjRBwSGDQvtrvfajH
Bdx0kLGWo0RwoqnUyNI9c81Smg.vdwgmES2Y89RKxezS.+wR8G9DT8hllVBh
AlC49.MqBHnJlgYxSVsgzZNS7u+m+MZsrBQKYMU7zZyWokiPlI78Bl98t4.8
HGn7BIL6EEYqMT9T1CbSsfJqmZbNYHP4SQpUxprTWYAsYz9GfcGdr8Oe2seq
SrCGadYtmyqJ6N75Qta1MNM4F6zkwiuQj6wuMNVspJFxI6.bM91BWAuQtERm
vJ7sEqt128f8H30cqfxyKFQK0.jMJAhiRYVFbLleEnnITkdNu.g8Gg8wiLO8
sc3pj1gCUG3teW.IpGfXyGrflb1xRmOLue0JWnaqh+y+aWK.X53m1.Txpxjl
Ys9V5nVXPJSABOTMbb6VCBu8fx4oERtPW6TPMXB.oASp+kKMMNVpQmiuw8U7
Q7IOGe1F8R7EfOi.rO7meW7WPO5v9ZC.GN84M.aidI9L+wjdJCIJpUFRTTeE
fcKCIr21w5M.AGD1ZGyznWhulk50hxXtNTOkgLtUMNai9I.6T7Q1KfTqA.2E
vnAV+INWApseUZO9QzPWatv018ig7Jg6Mz7INsGOZInapAQypRmN3Sg0G3zK
WlxJEvgaLhUfEyh03ZqftQ2TUTqEZE9u+NX.+GXRP5wC
-----------end_max5_patcher-----------

Now you should be able to send the dmx messages via the 'channel' message: channel <dmx-channel> <value>